Leave it to BeforeItsNews to keep us in the loop—the I-495 loop! Thanks for the heads up, Drake. 
Looks like they began rolling in last night. This is so exciting!  We're making history!

Also see this article at BeforeItsNews for more on this story, photos and videos and request to stock up on food today and not buy food, gas, anything this weekend to show support for all the American and Canadian truckers making their stance known to Washington.  ~ BP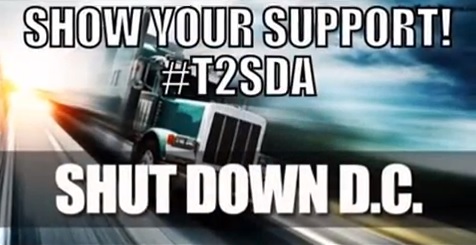 By Susan Duclos
NOTE- If anyone has updated photos of this event and want them published in this article, email them to wakeupamerica.spree@gmail.com
For those unaware of what is going on, a quick intro. Truck drivers across the country are heading to Washington DC for the "Truckers Ride for the Constitution," Facebook page for them can be found here. The event is scheduled for October 11-13, 2013, to shut down DC. Twitter hashtag #T2SDA.
Already one report has come out about cops pulling over portions of the convoy, by Live Free or Die at Before It's News.
Ok, all caught up here.
Below will be continuous updates, photos, videos, news accounts, first person accounts from the Truckers' themselves, so come back often.
Starting with some of the early photos coming out.